Clash of Clans is one of the largest MMO (Massively Multiplayer Online) strategy video games available for mobile devices with over 29 million users that are growing daily. If you haven't been a part of the action, now's your time to jump in.
Transform your simple village into an impregnable fortress, train your battalion to overcome any adversity, unlock new and powerful warriors such as barbarians, wizards, archers and dragons. Fortify your base with advanced weaponry, offensive and defensive structures such as archer towers, x-bows, mortars, cannons, mines, drills and storages and several others. Battle with millions of players worldwide and attack their bases to prove your superiority and loot their precious resources and join other players to form the ultimate clan and engage in heart-pounding clan wars where the winner takes all.
While playing Clash of Clans on your favourite mobile device, at some point, you must've found the screen size of your phone or even your tablet to be limiting. This becomes an even bigger issue when you have progressed through the game and have a giant base with several structures. It can become very difficult to keep track of what's going on in such a big base on a small screen especially during battles. If you've ever found yourself looking at your PC or laptop thinking how amazing it would be if you could play Clash of Clans on their big screens, then your prayers have just been answered.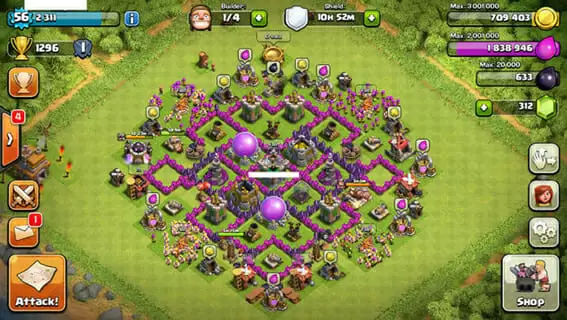 Requirements :-
In order to run Clash of Clans on PC, we'll be using a software called Bluestacks which is an android emulator. An emulator is a software that imitates or emulates another operating system. Bluestacks thus tricks the application into thinking it's running on android. Bluestacks has the following recommended requirements:
• 4 GB RAM.
• The updated graphics driver.
• 9-10 GB free hard disk space.
How to Install Clash of Clans on your Windows PC:-
Step 1 – You'll first need to download Bluestacks App Player from its official website. Bluestacks is an Android emulator for Windows OS and is absolutely free and virus free.
Step 2 – Once the software has finished downloading, open it and follow the on-screen instructions. The installation is fairly simple, however if you do run into any issues, you can read this existing guide.
Step 3 – Open the software and click on the search tool. Type Clash of Clans in the search bar. Click on Clash of Clans from the results.
Step 4 – Once this link opens in Play Store, you'll face an interruption. Login using a Google account when asked. This will setup sync and allow you to access Google's ecosystem.
Step 5 – Once you have successfully logged in, click on the Install button then click on the Accept button. Clash of Clans should now start downloading. Once the download is complete, you can launch the application.
Thank you for reading this article and I hope it helped you. Check out other links on our website to get more android applications on your PC. Please share this website with your friends. Thanks again!