Top 10 Video Editors:- Are you an aspiring content creator or a seasoned professional looking to enhance your video production game? In today's digital age, video editing has become an essential skill for individuals and businesses alike. Whether you're crafting engaging content for social media, producing educational videos, or editing memorable moments for personal use, having the right video editor can make all the difference. In this article, we're going to delve into the top 10 video editors that can help you transform your videos with creativity and precision.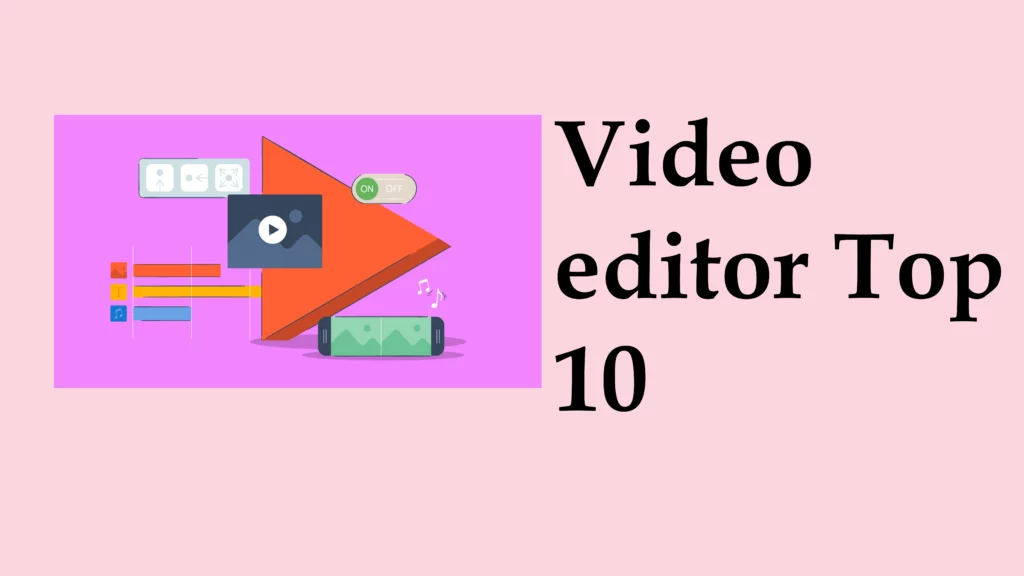 The Best 5 Free Voice Recorder Apps For Android
How to Install Clash of Clans on your Windows PC
How To Get Traffic For Affiliate Links
Introduction
In an era where visual content reigns supreme, video editing has evolved from a technical skill to an art form. The right video editor can turn raw footage into a compelling story, complete with effects, transitions, and audio enhancements. With a myriad of options available, let's explore the top 10 video editors that cater to various skill levels and preferences.
Adobe Premiere Pro: Unleash Your Creative Potential
Adobe Premiere Pro stands as a cornerstone in the realm of professional video editing. With its robust features and seamless integration with other Adobe Creative Cloud tools, this software allows editors to bring their visions to life. From advanced color grading to intricate audio editing, Premiere Pro offers a comprehensive suite of tools for creators.
Final Cut Pro X: Empowering Mac Users
For Mac enthusiasts, Final Cut Pro X is a go-to choice. Known for its optimized performance on Apple devices, this video editor combines power and simplicity. Its magnetic timeline and intuitive interface make it easy to arrange clips, add effects, and produce stunning videos without the steep learning curve.
DaVinci Resolve: Where Professionalism Meets Free
DaVinci Resolve has disrupted the industry by offering a professional-grade video editing suite for free. Its color correction and audio post-production capabilities are unparalleled, making it a favorite among filmmakers. With the option to upgrade to DaVinci Resolve Studio for even more features, this software is a gem for both beginners and experts.
iMovie: Simplicity and Functionality for Apple Enthusiasts
Designed for the Mac ecosystem, iMovie provides a user-friendly interface with essential editing tools. It's perfect for those just starting their video editing journey or for quick edits on the go. iMovie's simplicity doesn't compromise its functionality, making it a valuable tool for Apple users.
HitFilm Express: A Unique Blend of Editing and VFX
HitFilm Express brings together video editing and visual effects in one platform. With an array of special effects and compositing tools, creators can add a touch of magic to their videos. Its unique combination of features is perfect for YouTubers, indie filmmakers, and anyone looking to experiment with effects.
Filmora X: Intuitive Interface, Impressive Results
Filmora X strikes a balance between simplicity and creativity. Its intuitive drag-and-drop interface makes editing a breeze, while its wide range of effects and transitions allow for impressive results. Whether you're a beginner or a casual editor, Filmora X has something to offer.
Vegas Pro: Full-Featured Editing for Professionals
Vegas Pro has long been favored by professionals for its comprehensive editing features. From multi-camera editing to intricate color grading, it provides the tools needed to create polished videos. Its high degree of customization and flexibility make it a preferred choice for those seeking full control over their edits.
Lightworks: Collaborative Editing with a Pro Touch
Lightworks has made its mark in the industry by being used in the editing of several acclaimed films. Its collaborative features and professional-grade editing capabilities set it apart. While it might have a steeper learning curve, the results it offers are well worth the investment.
Shotcut: Free and Open-Source Versatility
Shotcut caters to those who appreciate open-source software. Despite being free, it doesn't skimp on features. With wide format support and a customizable interface, Shotcut is an excellent option for those who require versatility in their editing projects.
Movavi Video Editor Plus: User-Friendly and Feature-Rich
Movavi Video Editor Plus combines user-friendly functionality with a broad range of features. It's designed for individuals who want to create professional-looking videos without the complexity of more advanced editors. With its easy-to-use tools, you can quickly enhance your videos and share them with the world.
Conclusion
Choosing the right video editor can significantly impact the quality of your content. Whether you're a beginner or an experienced editor, the diverse range of options available ensures that there's something for everyone. From Adobe Premiere Pro's creative prowess to the accessibility of iMovie, each editor brings its own strengths to the table. So, explore, experiment, and elevate your video editing game.
FAQs
Which video editor is best for beginners?If you're new to video editing, iMovie and Filmora X are excellent choices due to their user-friendly interfaces and essential features.
What is the advantage of using DaVinci Resolve's paid version?DaVinci Resolve Studio offers advanced features like motion blur, 3D tools, and collaboration options, ideal for professionals working on complex projects.
Can I use Shotcut on both Windows and Mac?Yes, Shotcut is a cross-platform editor, available for both Windows and Mac users.
Is it worth investing in Vegas Pro for casual editors?Vegas Pro's advanced features are better suited for professionals; casual editors might find more value in other options.
How does Movavi Video Editor Plus differ from the basic version?Movavi Video Editor Plus includes more effects, transitions, and features compared to the basic version, allowing for greater creative freedom.